Correcting Paint Color Disasters: The Benefits of Interior Painting Services
Mar 31
Your home is your haven and should be a place of comfort and beauty. But if you have experienced the unfortunate consequences of a paint color disaster, you know that it can quickly turn your dream home into a nightmare. Have you ever heard the saying "you get what you pay for?" When it comes to interior painting services, this phrase couldn't be truer!
The benefits of hiring a professional interior painter are vast, and go far beyond just getting the job done right the first time around. From selecting the perfect shade to achieving an even finish, interior painting services offer advantages that will help to make sure your next project goes off without a hitch. In this article we will discuss why hiring a professional painter is worth your money and how it can save you from future paint color 
Why Professional Painting Services Are Necessary
Painting a home can feel like walking a tightrope between beauty and disaster. One wrong color choice or sloppy application can quickly turn an interior into a garish nightmare. The benefits of professional painting services go beyond preventing disasters – they can also give interiors an instant makeover. With skillful application of color, lighten or darken walls, create depth and contrast, and even make rooms appear larger or cozier than they actually are. The possibilities are endless when working with an experienced painter who knows how to maximize the potential of any space.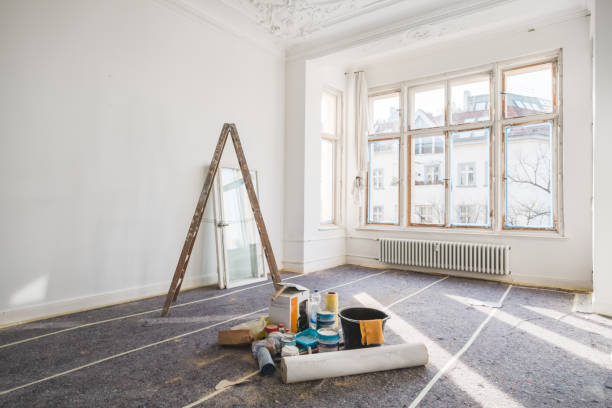 Assessing The Damage
The first step a professional painter takes when assessing the damage of a painting disaster is to evaluate the existing paint color. With this information, they can determine if it's possible to touch up the existing color or if an entirely new shade should be applied. They also look for any signs of mildew, water damage, or other problems that might make it difficult to paint over.
Once a proper assessment has been made, the professional painter can then move on to understanding colors and finishes. This involves determining which hues are best suited for each room or area and selecting finishes that will achieve the desired result. Understanding different types of paints as well as their application techniques is essential in achieving a professional finish with even coverage and crisp lines.
Understanding Colors And Finishes
Picking the right paint color can be like a high-stakes game of chance. With so many shades, hues, and finishes to choose from, it's easy to feel overwhelmed by the sheer number of possibilities. Fortunately, professional painters understand how to navigate the color wheel and select the perfect shades for each room or area.
When it comes to understanding colors and finishes, one of the most important steps is color matching. Professional painters are skilled at finding matches between existing colors and those available on the market today. This allows them to choose a new shade that complements the original without any noticeable difference in appearance.
TIP: When selecting a new hue for interior painting, consider how it will interact with existing colors in the room and take into account elements like natural light sources or furniture pieces that may affect its appearance.
Preparing The Room For Painting
Before any painting can begin, the room needs to be properly prepared. The surface must be cleared of furniture and items that are not necessary for painting. This includes curtains, rugs, and other wall hangings. To ensure a smooth surface, walls should also be free of dust and debris.
Once the room is cleared, the next step is wall preparation. This includes patching any holes in the walls and sanding down rough spots to make sure that paint will adhere evenly. Additionally, priming walls before painting helps create a strong bond between the primer and new paint color. Depending on the type of paint being used, it may also be necessary to use a sealant or primer before applying fresh paint.
Applying New Paint Color
When selecting a new paint color, it's important to consider the type of finish you'd like to achieve. Different types of finishes work better in certain environments, such as matte finishes for high-traffic areas or glossier finishes for rooms that need more light reflection. Professional painting advice can be helpful when making this decision if you're unsure of which option is best suited for your space.
The actual process of applying the new paint color requires attention to detail. Interior painting tips recommend beginning with the ceiling and then working down the walls in sections. This helps ensure even coverage and minimizes any risk of streaks or unevenness in the finished product. Professional painters also use quality brushes and rollers to apply a smooth layer of paint without leaving any brush marks behind.
Using these techniques, professionals can create stunning results with minimal effort. With proper preparation and application, it's possible to transform any room into one that looks brand new with just a few coats of paint!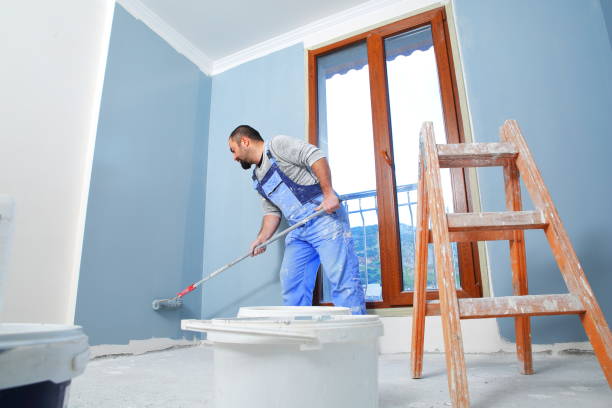 Following Up To Ensure Satisfaction
Once a new paint color has been applied, it's important to follow up with a final evaluation to ensure satisfaction. The best way to do this is to enlist the help of a professional painter who can examine the paint job and provide feedback on any areas that may need additional attention. This will help ensure that the results are as close to perfect as possible and will also provide peace of mind for those who have invested in interior painting services.
Professional painters have experience correcting color disasters that can occur when paint colors are applied incorrectly or not completely covered. They know exactly how to fix these issues so that the end result looks just as it did when it was first painted. They can also provide advice on what type of finishes work best for specific areas, allowing homeowners and business owners to get the most out of their investment in professional painting services.
Advantages Of Hiring A Professional Painter
All in all, there are multiple advantages to hiring a professional painter when correcting paint color disasters. From the expertise they bring to the project to the peace of mind they provide, it's easy to see why enlisting their services is a wise decision. Here are just a few of the benefits associated with interior painting services:
Professional painters can help identify any potential issues before applying paint colors and finishes, helping to avoid costly mistakes down the road. 

With their knowledge and experience, they can correct color disasters that can occur when paint colors are applied incorrectly or not completely covered. 

They can also provide advice on what type of finishes work best for specific areas, allowing homeowners and business owners to get the most out of their investment in professional painting services.
In short, enlisting the help of a professional painter provides numerous benefits when correcting paint color disasters. From expert advice on selecting paint colors and finishes to assistance in avoiding costly missteps along the way, these professionals can be invaluable partners in achieving desired results with your interior painting project.
Conclusion
Painting requires knowledge, skill, and precision to get it right. But with the help of an experienced professional painter, any paint color disaster can be corrected with ease! If you've ever been in a situation where you're trying to learn how to fix a paint color disaster on your own, then consider professional painting services. From assessing the damage and understanding colors and finishes to preparing the area and applying new paint color, they'll make sure that your home looks as beautiful as ever. 
Hiring a professional means that you won't have to worry about any mistakes or lingering odors—just the satisfaction of knowing that you have a beautiful space all thanks to expert craftsmanship. So next time you find yourself in need of correcting a paint color disaster, consider investing in professional painting services—your home will thank you!
If you're interested to have more knowledge about this topic, feel free check this blog post from Patch and Paint Pros.