Pros of Choosing Local Paint Contractors
Feb 6
When it comes to painting jobs, homeowners are frequently faced with the decision between doing it themselves or contacting a professional painting agency. Some may view DIY painting as an enticing alternative because it appears to save time and money. Nevertheless, it needs more commitment than many imagine. The process of preparing walls, purchasing materials, researching procedures, and sharing thoughts in person with an expert is a challenging one.
In contrast, employing a reputable painting service can lessen some of your concerns and leave you with stunning results - they come equipped with the knowledge to analyze your needs and assist you in achieving your desired result as fast and safely as possible.
Painting a house is often a difficult process. Choosing the proper contractor for the work is even more crucial. In some areas, it may be difficult to find painters, and the few that are available may be unreasonably expensive. However, there are numerous advantages to selecting a local painter. This article will discuss the advantages that local painting contractors have over long-distance counterparts, as well as the importance of finding and hiring competent painters.
Cost
Employing local painters who operate from their home base can often result in cost savings. Typically, they will not be required to drive great distances to the job site and will be able to offer competitive pricing. When searching for local contractors, it is crucial to undertake research in order to get the top deals and reputable contractors with reasonable costs.
A further advantage for local contractors is that they do not need to travel out of their way to acquire painting supplies. The cost of procuring paint, supplies, and other items would increase if a contractor from a distant area were hired. A person can save time and money by using local workers.
Quality
Local painters are proud of the quality of their work and the reputation they've built in their neighborhood. They are more likely to provide a superior result than a remote contractor who may not be as invested in the task. Moreover, local contractors may be able to provide recommendations from prior customers in the region.
When it pertains to home improvement projects, choosing a local contractor can be a wise move. In addition to providing customers with the opportunity to witness preparatory work in person and track the progress, their work is typically accompanied by a guarantee, which provides peace of mind.
Local contractors are frequently prepared to tailor their services to the client's specifications and offer a level of individual service that larger businesses may not. In addition, a nearby contractor may assist with any problems that may emerge and provide more immediate feedback on the work being performed. Overall, hiring local contractors for home modifications can provide an assurance of safety and adaptability that can be incredibly beneficial.
Reliability
Customers can have confidence in the dependability of a local painting contractor when employing one. As they operate in the same neighborhood, they are more likely to be conversant with local legislation and building codes. In addition, local contractors are typically well-connected to other professionals in the sector, allowing them to have access to the resources necessary to complete the project on schedule.
A further benefit of hiring local contractors is that they are more likely to be accessible on short notice. In certain instances, they may even be able to provide same-day service. This can be of great assistance in the event of an emergency or if the task must be performed quickly.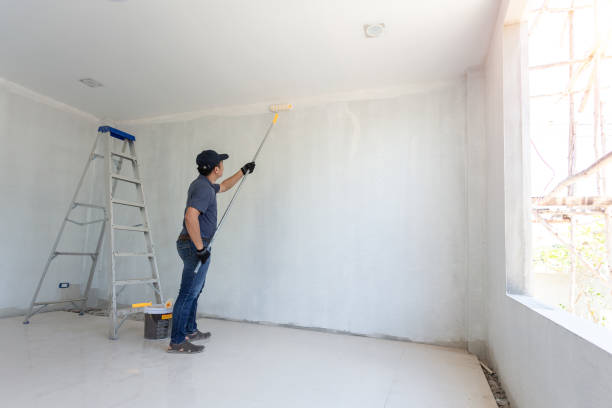 Professionalism
Typically, local contractors are more professional than their out-of-state counterparts. They are often more familiar with the area, which makes it easier for them to spot and address any difficulties. Moreover, because they are local, they will be motivated to preserve a positive reputation in their neighborhood and will be more likely to conduct themselves professionally.
The right processes for painting a property may be more familiar to local tradesmen. This may require anything from preparing the surface to choosing the most suitable paint for the project. All of these things might contribute to a higher level of craftsmanship and a more durable paint job.
Experience
Generally speaking, local contractors have more experience working in the area. They will have a better knowledge of what works and what doesn't. They will be better equipped to modify the paint job in relation to the local climate and environment. Moreover, they may know where to get the most affordable paint and materials.
A local contractor may also be aware of the existing paint job, which can be advantageous if the homeowner wants to create a specific appearance or effect. This can be very helpful when attempting to replicate a historic appearance or when striving to develop a unique style. In this situation, experience can be of great use.
Expertise (Exterior or Interior Painting) 
Local contractors are more likely to specialize in one or two types of painting jobs, such as interior and exterior painting, or finishing and staining. This specialty enables them to recognize and develop the abilities required for each painting project.
When picking a local painting contractor, it is necessary to verify that their specializations and skills match the task specifications. This can help to guarantee that the task is performed in the most efficient manner and to the highest possible standard.
Flexibility
When it comes to scheduling, local painters are typically considerably more adaptable. Typically, they can accommodate varying start and end periods, as well as tailor the job to the customer's specifications. When seeking a long-distance contractor, it might be challenging to locate someone with this degree of adaptability.
For this reason, hiring a local painting company may be the best option for individuals with a tight deadline or work that must be completed quickly. Additionally, adaptability implies that the client can collaborate closely with the contractor to guarantee that the job is completed to their satisfaction.
Relation
When employing a local contractor, there is often a chance to build a better connection. Local contractors have a strong interest in the neighborhood and are therefore more likely to understand the homeowner's goals. In addition, local contractors may be more eager to offer advice and make recommendations to guarantee a successful project.
When employing a local contractor, the relationship goes beyond simply economic considerations. Having the contractor visit your home and work directly with you instills a sense of confidence. This can be crucial for larger projects requiring more input or supervision.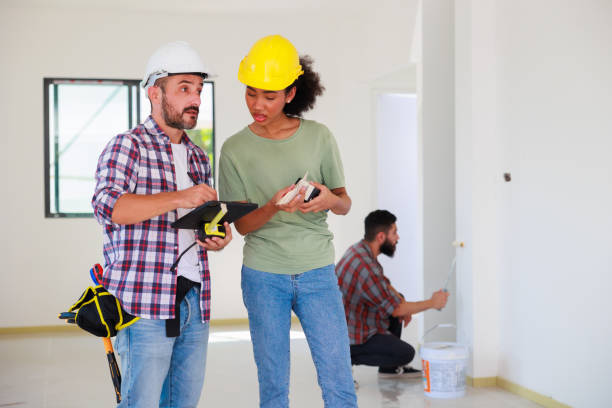 Advice on the Painting Process
Typically, local painters have a lot of information at their disposal. Usually, they are knowledgeable about the local surroundings and may provide advice on the best colors and materials to utilize. Additionally, they can be a useful resource for guidance on exterior and interior design.
A local painting contractor may be able to provide assistance with design ideas and color selection advice. This can be useful for folks who are unsure of the decisions necessary to obtain the desired appearance.
Protection
When you employ a local house painting contractor, you can rest assured that your home is protected. It is possible that out-of-town contractors lack the necessary knowledge and experience with the hazardous materials common in your area. However, your local contractor should have the skills required to take precautions, like carrying protective gear, when working with lead-based paints and other hazardous compounds found in home deposits. Having a professional painter who is up-to-date on regional safety rules will guarantee a safe and worry-free house renovation.
Communication
Generally speaking, local professional painters are more communicative than their long-distance counterparts. This is mostly due to the fact that they are local and more accessible. This might be important for interior and exterior projects requiring frequent updates and modifications.
Support as Part of the Painting Project
Lastly, local painting companies frequently provide the necessary support to ensure the task is done correctly. This includes items such as follow-up visits and reviews, which can contribute to the success of a project. Additionally, local contractors may be depended upon for assistance with future renovations and maintenance recommendations.
Hiring a local painting business is often the best option when it comes to painting a home. Local contractors provide additional benefits, including cost savings, quality work, dependability, professionalism, experience, specialization, flexibility, relationship, direction, safety, a sense of teamwork, communication, and support. All of these advantages can make the painting project successful and the homeowner's experience more pleasant.
If you want to know more about the advantages of choosing local paint contractors, check this blog from Patch and Paint Pors to get more idea on this topic: https://patchandpaintpros.com/benefits-of-hiring-local-painting-contractors/